Who can beat Okolie? 'Only Riakporhe possibly could'
Lawrence Okolie remains the WBO world champion and, arguably, the most difficult fighter to beat in the cruiserweight division.
The Briton returned from a lay-off of over a year, with a new trainer in SugarHill Steward, to outpoint David Light over 12 rounds at the AO Arena in Manchester on Saturday night.
It was a bout Okolie dominated, controlling the action almost entirely apart from the occasional lapse and cuffing right hook from his challenger.
But when he had Light hurt, Okolie did not provide the knockout the crowd in the Manchester Arena was baying for.
His coach Steward, however, is confident there is more to come from Okolie, after all the Londoner has not even had 20 professional fights yet in his career.
"It had some exciting parts in there and I was happy about that," Steward said of their first fight together.
"I'm a realist so I don't expect somebody to come and do everything all at one point. It's very difficult to do when you've been doing something all your life and then try to change over and do everything the way you're being taught how to do it. That's totally different," he told Sky Sports.
"I felt it was a good fight for Lawrence. We were just talking and joking about it. Now he really understands what we're working on and how to push himself even more to get it.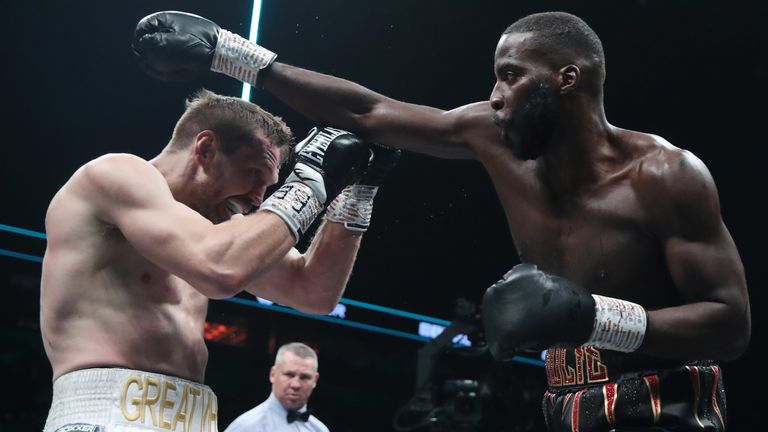 "So I just think it was a great learning experience for him and I know definitely the next time is going to be better. I feel this time was a better Lawrence."
He denied Light the opportunity to gain any sustained momentum in the fight. Okolie threw strong, long punches and muscled the challenger around on the inside when he did get up close.
Okolie has attributes that make him "so awkward" for anyone he comes up against and Steward certainly will not let him forsake those qualities either. "Hey," he said, "take it, use it."
Promoter Ben Shalom also thinks Okolie is "miles above everybody else" at cruiserweight.
"He's so hard to beat. He's so big, he's so strong," the BOXXER CEO told Sky Sports. "He's going to be very difficult to beat. He'd be the last person you want to face as an opponent. I think for me Richard Riakporhe's the biggest challenge that he'll face in the cruiserweight division.
"I think Richard Riakporhe's the only man that possibly could beat Lawrence Okolie."
Shalom acknowledged against Light that Okolie "didn't get the statement that he'd have liked with the knockout, but he had him there three times, I would say, when he could have knocked him out".
Light, however, was previously unbeaten and demonstrated highly-impressive punch resistance.
"He's extremely tough. So we feared it would go 12 rounds because of how tough he is," Shalom said. "We had to do the mandatory [defence]. We knew it was going to be a tough fight. We knew it was going to be a tough opponent and it might not look pretty at times given how resilient David Light is."
Okolie, however, remains in a strong position. "He did hit him with a lot of big shots. I think he'll feel like he could have jumped on him at certain points and really put the pressure on him and got him out of there," Shalom said.
"But he keeps his title and now the mandatory's out the way, he doesn't have to worry about that for the next 12 months and he can get straight to Richard Riakporhe or a unification.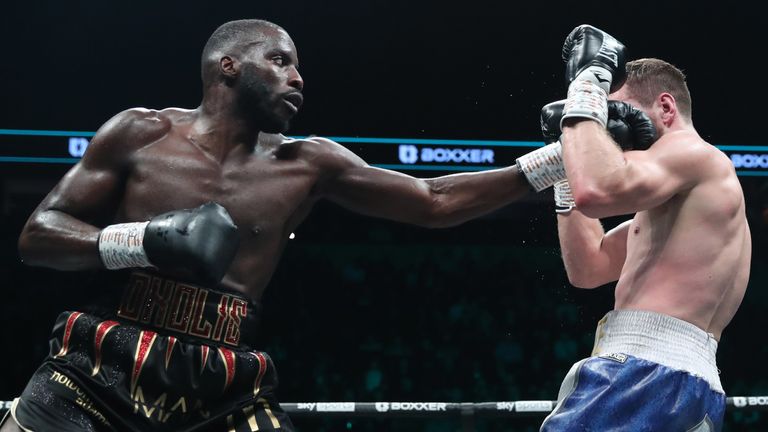 "Every fight from here on in is a super-fight," he added. "Most importantly he kept his belt in a fight he absolutely dominated from start to finish."
Shalom will speak to rival London cruiserweight Riakporhe on Sunday. Riakporhe is a big puncher who is ready to challenge for world honours himself.
Shalom said: "It's either the unification or Richard for Lawrence next and I know it's a fight that Richard's dying for. I think that's the plan, that's the route and it's exciting because already Lawrence has got his mandatory out the way, now with ring rust off.
"CBS [Chris Billam-Smith] has built brilliantly to the stadium fight, Richard Riakporhe's gone from British level to world level over the past 18 months and just got better and better and better.
"So the beautiful thing is we do have three cruiserweights at world level ready to go for world titles and fight each other. So it'll be a big year this year."