The Spin | County cricket's longform stories offer something IPL just can't match
Psst. This bit is between just us, please. It isn't something I'd want to get out in public, especially not when I'm in this line of business, but I need to get it off my chest. I don't much like the Indian Premier League. There, I said it.
This, like an acceptance you will never play the Dane, is the sort of self-knowledge you acquire in middle age, but admitting it here exposes me to youthful titters on Twitter, marks me out as the sort of man who probably quite likes gardening, sighs when he settles into a chair, someone who, yes, you may well find at a county ground on a free weekday.
As I type this, Gujarat Titans are playing Sunrisers Hyderabad in what is, let me check, the 62nd game of the season that's been running for 46 days. It looks like a good one as far as they go, Shubman Gill has hit a hundred, Bhuvneshwar Kumar has taken five wickets. It is, presumably, of serious interest to however many hundreds of thousands of cricket fans live in those two cities and everyone else in India and its diaspora who follow the league closely. For many of the rest of us, though, the games in this $10bn league come and go.
I may glance at the headlines, dip into the scorecard, maybe even watch a clip on social media while I'm putting off writing the rest of this sentence. But the truth is that I, a man who has spent the large part of the past 20 years writing about cricket, among other things, and who still makes a living doing it, couldn't tell you who is top of the league without looking (just checked: it turns out I've already mentioned them). The matches pass like leaves from autumn trees.
Some of it is simply because of the format of the sport. We have had 20 years of Twenty20. Looking back, how many indelible memories have they left you with? How many moments were there among them you still think or talk about now? I have a handful, almost all from international matches, the six sixes Yuvraj Singh hit off Stuart Broad, the four Carlos Brathwaite took off Ben Stokes, Misbah-ul-Haq being caught on the sweep, Kevin Pietersen taking on Dale Steyn, Chris Gayle hitting Brett Lee over the grandstand.
So, same question again then, how many of them were from franchise games? This isn't a trick. Yours could very well be longer than mine and that's fine. But I have two. Brendon McCullum's hundred in the very first game of the IPL and Shane Warne calling how he was going to dismiss McCullum in a Big Bash match.
And yet there will be, by a quick count, almost 400 more franchise T20 matches played across 10 major leagues in the rest of 2023, one-and-some for every day of the year, and that's without including the various offshoots, such as the Ten10, or the 6ixty, or the regular T20 fixtures between regular domestic teams. And there are more coming in 2024.
Even the people being paid to play this stuff don't think it is the best form of the sport, just the most lucrative. "Test cricket is still my favourite," Trent Boult told Cricinfo recently, parroting one of the great player cliches of the day.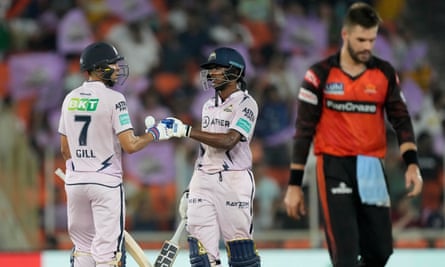 It sometimes seems like there are only two sorts of people who want more T20 cricket: the large part of the Indian youth market and men making money off them. Even that second group doesn't seem entirely persuaded it's worth it. "It is a difficult one for me because Test cricket is what you grow up on as a fan and I haven't missed the first day at Lord's for however many years, it is still my preferred format," the Rajasthan Royals owner, Manoj Badale, told the BBC's Tailenders podcast the other day.
"But it is not about me, it is about what the 10- to 15-year-olds in India and across the world are thinking."
And here I was thinking the 10-year-old was supposed to be the one who points out the Emperor has no clothes on. I have two boys just a little younger than that. I wouldn't leave them in charge of picking the Sunday afternoon movie, but here we are organising an entire sport around their preferences.
Badale has a degree in economics, with a distinction in disingenuous bullshit. His plan for his "preferred format" is that "we should have it at the same time every year, played between a small set of nations that can actually afford it and Lord's becomes like a Wimbledon, an event that is in the diary".
It seems we are going to start organising the Test schedule around the IPL owners' social calendar. The rest of the red-ball cricket around the world doesn't matter, whether that is Tests in Sri Lanka, New Zealand or the West Indies or all the first-class stuff that, you know, actually makes that Test match at Lord's possible.
Odd thing is, there is an opportunity in all this. You may not have noticed, but the County Championship is quietly thriving. It has become a bastion of red-ball cricket, home, at the moment, to some of the world's best batsmen – Marnus Labuschagne, Steve Smith, Cheteshwar Pujara, Daryl Mitchell and Jonny Bairstow – a crop of Test-match standard bowling attacks and a surfeit of interesting plotlines as players prepare for the Test season ahead.
It is the place you go if you want to watch cricket with long-form stories, with blocks and leaves, proper spells and slips, a refuge for the tragically unhip. If you're looking, you'll find me beside the sightscreen.