Taking Football Weekly on the road is like a relaxed evening with old friends | Barry Glendenning
This is Spinal Tap. Well, this is eerily reminiscent of the iconic mock-rockumentary. The five-man lineup from the Guardian's Football Weekly podcast is doing yet another passable impersonation of David St Hubbins, Nigel Tufnel and chums as we attempt to negotiate a labyrinthine network of dark, prop- and cable-strewn passages, one of which leads from our dressing room to the stage. Having finally found our way, invariably with the help of a patient theatre tech, Max Rushden wanders on stage as the rest of us wait in the wings.
There's no big announcement or fanfare for our host, who just sidles on. The hubbub of the restless, predominantly male crowd is gradually replaced by cheers and applause. Quite how he does it remains something of a mystery, but within a couple of minutes the mild-mannered presenter once described by a Manchester United fan in the Belgian city of Genk as "everything that is wrong with modern football" has whipped the crowd into a genuinely frothing frenzy. To raucous roars of applause he introduces Producer Joel, who explains the rules – no recordings to protect the sanity of the Guardian lawyers, every man for himself in the event of a fire and a polite request not to ruin the big surprise for future audiences – and introduces everyone else. It's showtime – let the 90 or so minutes of high-octane, crowd-pleasing football chat begin.
With no musical instruments (OK, one musical instrument), little or nothing in the way of a set-list and not even a smoke machine to lend an aura of much-needed mystique to the five middle-aged men taking their seats on stage, it seems baffling and flattering that in these straitened times several hundred people have paid actual money – their own money – to come and listen to us do little more than blether on about football, among other subjects that arise. After all, it's a service we provide free three times a week on the Guardian podcast so the sense of genuine guilt prompted by fears our audience might not get anything resembling value for that money means we at least have a few prepared multi-media set-piece surprises and an interval extravaganza up our sleeves.
We also tell the audience which local hostelry we'll be in after if anyone fancies a drink; a revelation that recently led to two put-upon but extremely gracious and patient staff in The Wellington pub in Birmingham being inundated with orders from an already inebriated mob of thirsty people on what should have been an otherwise tranquil and uneventful Wednesday night.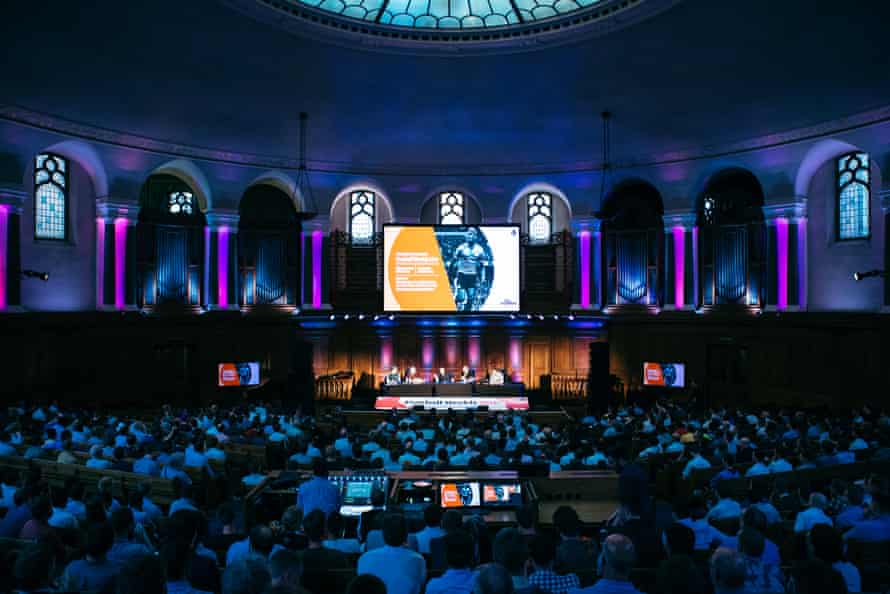 It was genuinely our pleasure. The same people seemed oblivious to the fact that recording the thrice-weekly offerings helped keep this and other Football Weekly podcasters from teetering into madness. They rode to the rescue again last Christmas when I suffered a sudden family bereavement. The humbling number of sympathetic messages from strangers who know me only from talking cobblers about football and more off-piste topics through their earbuds provided more comfort at a dark time than they will ever know.
While modesty and an obvious preference for flagging up amusing abuse prevents us from reading out on air too much praise sent in from listeners, a common theme from those who write in to correctly point out how great we are is that listening to Football Weekly is like enjoying a relaxed evening down the pub with old friends. With three of our live summer shows down and five to go, our tour is exactly that – a series of liver-punishing booze-ups with dear old friends in whose company we are finally getting time to spend.