Rodri's Manchester City role shows holding midfielders are key to success | Karen Carney
The holding midfield role is a bespoke one; you need to be technically very good, not just a destroyer, have a high-level understanding of the game and be able to drop into the backline but also break forward, depending on what team you are in. Simple enough.
Manchester City have one of the best in the business in Rodri. He has been an incredibly consistent performer since his arrival from Atlético Madrid in 2019 and City are reaping the rewards. The importance of his role is shown by Saturday's opponents, Liverpool, who have been constantly linked with midfield players because they have struggled in this position. Rodri, on the other hand, has provided stability.
He has played more minutes for City than anyone else this season, including the goalkeeper Ederson, a sign of his value to Pep Guardiola. To have someone that consistent at the base of the midfield is extremely important because their reliability feeds into the rest of the players.
Rodri has made the most passes in the Premier League this season, 189 more than Lewis Dunk in second, and 546 more than the closest midfielder, Pierre-Emile Højbjerg. He has also had more touches than anyone in the league. Leading his peers on these statistics is a sign of Rodri being indispensable in City's challenge for trophies.
Guardiola said of the position, one he knows well from his playing career: "What is important to be a holding midfield is to be always stable: seven, eight, seven, eight. It's not nice to have a big 10 performance and then a two or three. Maybe wingers or strikers can do it but for a holding midfielder it's not good." Rodri ticks all those boxes.
When managing Barcelona, Guardiola had Sergio Busquets and at Bayern Munich it was Xabi Alonso, two of the most intelligent players in European football of recent times. At City, Guardiola recognised Fernandinho would need to be replaced and identified Rodri as the man to do it. City spent £62.8m on Rodri when he was 23, thinking he could perform the role for the next decade.
Not many clubs break their transfer record for a defensive midfielder, but if you can find someone as reliable as Rodri it is worth it. Chelsea spent more than £100m on 22-year-old Enzo Fernández in January and 21-year-old Moisés Caicedo may cost a similar amount after showing what he can do at Brighton. These are players a team can be built around.
It was not a straightforward adjustment for Rodri from La Liga to the Premier League. He had to adapt to the faster pace and more physical game, not to mention his manager's complex tactics, but he was intelligent enough to understand how he could do that. Guardiola said in October 2021: "I think now he's so stable, he's always paying attention and he's realising what we are looking for because sometimes you need time to understand."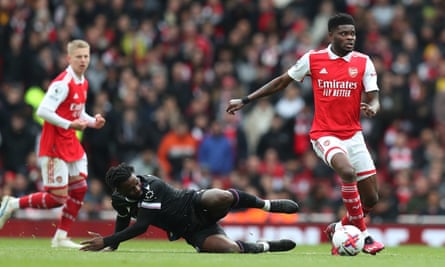 City are very well orchestrated, so everyone knows their role and responsibilities. Rodri's is to keep things simple and the ball moving because they are a possession-based team. It is focused on short passes that help others, such as Ilkay Gündogan and Kevin De Bruyne, move into positions where they can be most effective.
Wingers and strikers attract the headlines when a team are doing well, but at the base there is always a very clever defensive midfielder. If you run through the Premier League, there is a strong correlation between a team's position and the man in front of the centre-backs. Thomas Partey has made Arsenal into title challengers and when he is absent, as looks likely on Saturday against Leeds, there are questions of how they will cope.
In third, we see a rejuvenated Manchester United, whose fortunes have been reversed since Casemiro came in from Real Madrid to take a more defensive role than Rodri has at City.
A defensive midfielder is the heart and spine of the team; they are the core of your body and without that stability you crumble. There are nuances to each player in the role, but they are always integral to any successful side. It is shown by those clubs who haven't had the season they hoped for. Højbjerg has not been at his best and that has affected Spurs while Liverpool are not the team they were when Fabinho or Georginio Wijnaldum were dominating games.
Defensive midfielders have to see things before they happen in and out of possession. They need to sense danger and be two steps ahead on the ball because they build the blocks by keeping things ticking. I could not sense danger. You can improve your perception, but those who do it best are born with a natural inclination.
In the modern game, a lot of players are comfortable in multiple positions. Centre-backs can play in central midfield and vice versa, full-backs can play on the wing, centre-forwards can drop to be No 10, but being a defensive midfielder is a vocation.