Ozil exiled by Fenerbahce | Ex-Arsenal star kicked out of squad
Mesut Ozil has been excluded from Fenerbahce's first team, the Turkish club have announced.
The former Arsenal midfielder has been a key player for Fenerbahce since joining the club from the Gunners 14 months ago and captained them in their last league game against Konyaspor, but he was hauled off at half-time in that match.
The Turkish giants have also announced that midfielder Ozan Tufan, who was on loan at Watford at the start of the season before returning to his parent club in February, has also been left out of the first-team squad.
Ozil has been a vital figure in attack for Ismail Kartal's side this season, scoring nine goals and registering three assists in all competitions. But this news will leave the 33-year-old facing a very uncertain future at Fenerbahce.
The Turkish club's president, Ali Koc, announced at the end of last year that Ozil was "unhappy" at the Turkish club due to a desire to play more, but revealed that manager Kartal was struggling to get the best out of the midfielder.
"Ozil wants to play more," Koc said in November. "From now on, he needs to focus on his game and keep his commercial interests out of it. He needs to think about contributing to Fenerbahce.
"Our coach also needs to try to figure out how to get the most out of Ozil. There is not a problem, despite what the media says. Mesut is unhappy because he does not play regularly."
The former Germany international left Arsenal under a cloud of controversy last year after the midfielder fell out with current Gunners coach Mikel Arteta.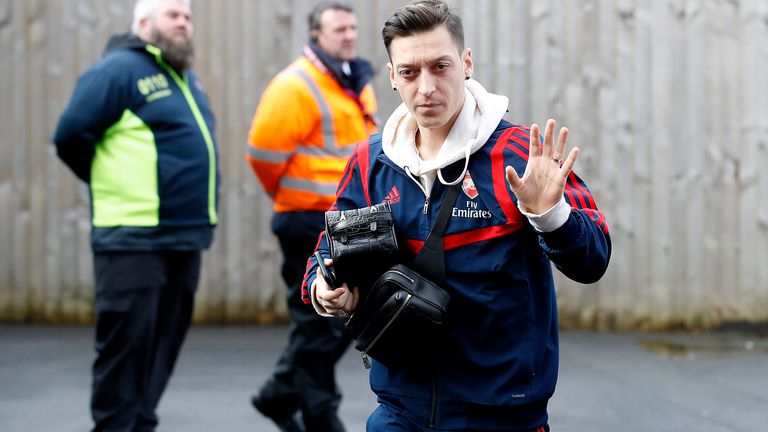 The Spanish coach exiled the German, despite him being on a reported £350,000-a-week contract at the Emirates Stadium, for not adhering to the "non-negotiables" that Arteta wanted from his players.
Arteta left Ozil out of his Premier League and Europa League squads at the start of last season, which meant the midfielder did not play a single competitive minute for the Gunners between his final appearance for the club in March 2020 and his departure in January 2021.
During his final season at the Emirates Stadium, Ozil accused Arsenal of not reciprocating his loyalty. He also went against the club's decision to let the team's mascot Gunnersaurus go as matches were played behind closed doors – by offering to reimburse the wages of Jerry Quy, the employee who donned the dinosaur suit.
Meanwhile, in 2019, Arsenal distanced themselves from accusations made by Ozil towards China, with the German claiming that the country were persecuting Uighur Muslims.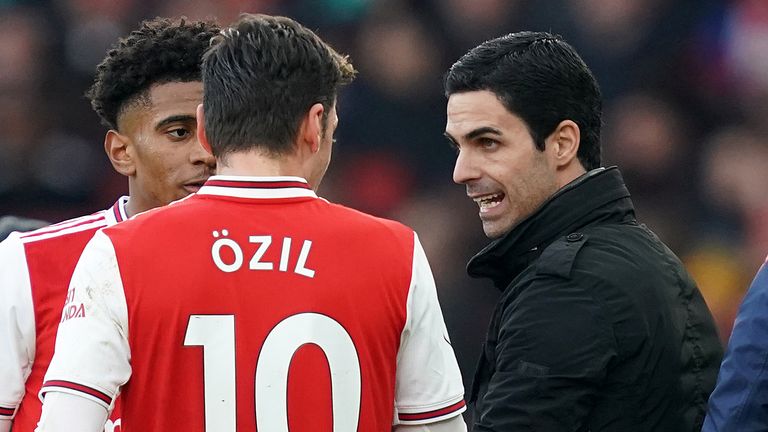 When Ozil was axed from the Gunners' first-team squad at the start of the 2020-21 season, the midfielder posted on social media: "I'm really deeply disappointed by the fact that I have not been registered for the Premier League season for the time being.
"Upon signing my new contract in 2018, I pledged my loyalty and allegiance to the club that I love, Arsenal, and it saddens me that this has not been reciprocated.
"As I have just found out, loyalty is hard to come by nowadays. I've always tried to remain positive from week to week that there's maybe a chance to get back in the squad soon again. That's why I kept silent so far."
Ozil helped Arsenal to three FA Cups during his time in north London, making over 250 appearances for the Gunners.
The German failed to score in his first half-season at Fenerbahce, but had scored eight league goals for the club this season.