'Nichols' senseless death has hit us hard' | NBA: It's horrifying
Memphis Grizzlies head coach Taylor Jenkins says the "senseless" death of Tyre Nichols "hit his side really hard" and that watching an interview with Nichols' mother, RowVaughn Wells, left him in tears.
Grizzlies played at Minnesota Timberwolves on Friday night, just minutes after footage was released of 29-year-old Nichols being beaten by Memphis police on January 7.
Nichols died three days later on January 10. He was black, as are the five now ex-police officers who have been charged with murder.
Speaking to Bally Sports, Grizzlies' broadcast partner, before the game against Timberwolves, Jenkins said: "It's been tough being on the road, not being home.
"I wish I could extend my arms through this camera right now to the family. They're going through a lot. The senseless loss of life for Tyre Nichols has really hit us hard.
"I cried," added Jenkins, when speaking about Wells' interview.
'We're playing with heavy hearts'
A moment of silence was held for Nichols before Grizzles faced Timberwolves.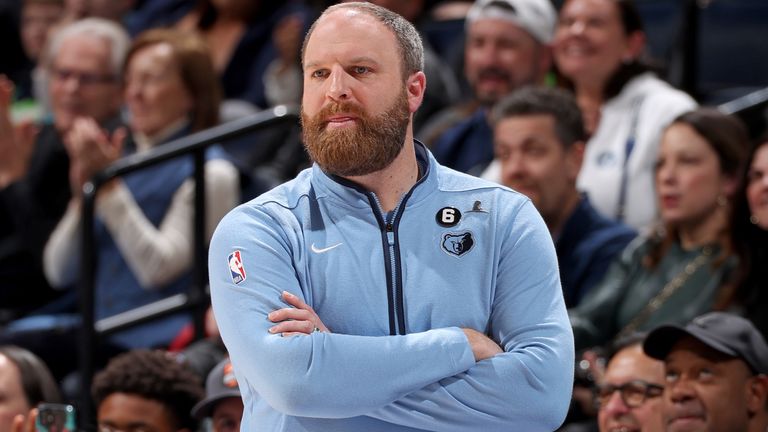 After Grizzles' 111-100 defeat, Jenkins added: "There's way harder things on in the city versus what's going on with our basketball right now.
"I'm proud of our guys going out there. We're playing with heavy hearts, but we're also playing for our city that's going through a lot right now.
"My words will only mean so much. I want to continue to encourage people to put their arms around each other.
"To put their arms around the Nichols family, the Wells family to remember a beautiful life in Tyre Nichols – who I did not know, but I'm learning about."
NBA: Video images are 'horrifying'
Several teams, including Memphis, released statements after the video footage of Nichols' beating was released.
Milwaukee Bucks said: "We are outraged by the deadly beating that Tyre Nichols received from five Memphis police officers.
"While the police officers being charged for their heinous actions is an important step for justice, this incident further highlights the need for progress in improving police-community relations."
The NBA's statement said: "The images of Tyre Nichols' life needlessly cut short are horrifying.
"While there have been steps toward accountability in this instance, the NBA family remains committed to partnering with advocates, policymakers and law enforcement to work toward solutions to the issues we continue to face."
The National Basketball Players Association (NBPA) said "Our hearts go out to the entire Memphis community as they are processing and dealing with this horrible tragedy, and we stand by the rightful arrest of all officers involved.
"Such aggressive policing and excessive force illustrate the continued need for accountability in the justice system."