Nev: Man Utd will need 'something really special' to beat Liverpool
Gary Neville feels Manchester United will need to produce "something really special" if they are to beat Liverpool at Anfield on Super Sunday despite their outstanding form.
Erik ten Hag's side have only lost one of their last 22 games in all competitions and followed up their Carabao Cup triumph over Newcastle with a comeback with over West Ham in the FA Cup on Wednesday.
They head to Anfield hoping to keep the pressure on Arsenal and Manchester City above them in the Premier League table, but Neville is anticipating a tough game, regardless of Liverpool's struggles this season.
Asked by Sky Sports News if Anfield still holds a fear factor, Neville said: "Absolutely.
"I'm not saying that the Manchester United players will be worried about going there on Sunday, but anybody who has been to Anfield before, and most of that team have, will know how difficult it is.
"They will know how it can all go wrong and how that crowd can get on top of you and make things difficult for you in that first part of the game.
"Manchester United on Sunday will have to be at their absolute best and more to beat Liverpool, irrespective of the form Liverpool are in.
"But, I do feel this is a Liverpool this Manchester United team can damage. If Manchester United demonstrate that resilience, spirit and quality they've shown in the last few months, then it will be a hell of a tough game for Liverpool.
"But it's a big game for Liverpool. They've got to get back to the top four. A few weeks ago, I never believed the hype that they were out of the top-four race. I always felt they would go on a run when they got a few players back.
"They had a victory last night which was really important. Are Liverpool back? I don't think Jurgen Klopp would say they are back because he has seen his team at a level that's been well beyond what they are currently achieving.
"But Manchester United will have to do something really special on Sunday."
Referencing his own playing days, Neville added: "I always felt when we went to Anfield, and I played in a Manchester United team that was winning leagues regularly, and Liverpool were nowhere near that, that it was a monumental event to go there and win, even going back all those years.
"It will be no different on Sunday. They have to have a huge amount of respect. There can be no complacency. But United are in a very, very good place."
Sunday 5th March 4:00pm
Kick off 4:30pm
'Rashford and Man Utd will target Trent'
Liverpool have shown defensive improvement lately, keeping four consecutive clean sheets in the Premier League, but Neville still expects United to try to target Trent Alexander-Arnold.
The right-back is likely to be in a direct battle with his England team-mate Marcus Rashford, whose scintillating form has been a major part of Manchester United's recent improvement.
"They will, not because of anything special, but Marcus Rashford plays on that side, Luke Shaw will play on that side," explained Neville. "Manchester United attack well on that side with those two. And if it's Jadon Sancho on that side, it will be the same.
"So yes, Manchester United will target Trent Alexander-Arnold, absolutely no doubt. But they will also target other parts of Liverpool's back four because they will feel confident they can get at them.
"Liverpool have demonstrated vulnerability all the way through this season at the back. Obviously, they got a clean sheet last night [in the 2-0 win over Wolves], but Manchester United will think they can have a right go at them.
"I've talked a lot about Trent over the years. I've never seen anybody at right-back kick a football with the quality he does, but I always felt, and I go back to the same phrase I used three or four years ago, that I took quite a bit of criticism for when he was flying, that if he doesn't attend to the defensive part of his game, it will cause him problems one day.
"That day has come in the last six to 12 months, when people do fancy their chances against him.
"He's got to stop that if he can. I know he'll be working at it. But Manchester United's Rashford down that channel, he's in unbelievable form and he will fancy it."
'Casemiro impact has been off the scale'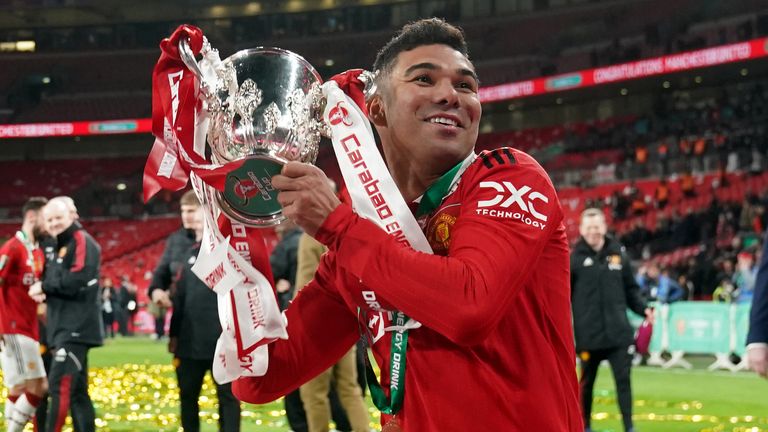 Neville was impressed by Manchester United's comeback win over West Ham in the FA Cup and hailed the role of Casemiro in elevating Ten Hag's side this season.
"I was watching the game and there was feeling of, 'Will they come back? Is this just one game too far after a cup final on Sunday?'
"I was a little bit nervous but this team are starting to build a trust in the fans, in ourselves watching, and in opposition teams as well, that they are never out of a game, they've got that bounce-back in them and never feel like they are beaten.
"What Casemiro has done to that dressing room and team is off the scale.
"There was a free-kick on the left-hand side that Bruno Fernandes had at one point. Casemiro went and to him and pointed towards the spot and said, 'Put it there and I'm going to head it.'
"Bruno put it there and he actually went and headed it. The goalkeeper saved it, but he just looks at this moment in time like he is in complete control of that team. He looks like he is a dominant force.
"I heard Erik ten Hag say, 'it's for dreamers' about the title. I would agree with him. I feel myself that they're not going to win the title.
"But if Arsenal and Man City were to drop points in this next month or so, I wouldn't like Casemiro chasing me down in the run-in because I think he's the type of person, on his own in that club, who can have a massive impact in terms of how Manchester United would approach it."
Neville doubts Manchester United's title chances but feels optimistic about their chances of adding to their Carabao Cup success in the FA Cup or Europa League – even though one trophy alone would represent a successful first season for Ten Hag.
"There will be people now who may have realigned their targets and assessments of what Manchester United should achieve," he said.
"But if you said to me top four and Carabao Cup, I would say that's a very successful first season for Erik ten hag. I don't want to lose sight of where Manchester United were in all our minds only a few months ago.
"However, it wouldn't surprise me if they went and picked up another trophy in one of the cup competitions.
"The FA Cup looks to have opened up a bit. It's a lot easier than it looked a few weeks ago. And then obviously there's the Europa League, with a lot of excellent teams still in it.
"So, there are still a couple of opportunities and I wouldn't put it past them because the momentum is with them and momentum is big in football, especially at this point in the season."