Napoli can begin their party while shroud still envelops Juventus | Nicky Bandini
It was not the goal that sealed Napoli's third-ever Scudetto, but it sure felt like it, an emotion so overpowering that some players could not keep their feet. As Giacomo Raspadori's volley skidded through Wojciech Szczesny's legs and into the Juventus net, Piotr Zielinski simply collapsed on to his back, lying spreadeagled on the Allianz Stadium turf.
Raspadori's strike arrived in the 93rd minute, securing a 1-0 win. Napoli scarcely needed the points – they were already 14 clear of second-placed Lazio before kick-off – but five days removed from a Champions League quarter-final defeat to Milan, they needed this moment to remind themselves of how special this season has been.
A visit to Juventus in the spring will always feel like a final boss battle. The league's most prolific winners are a footballing embodiment of Italy's richer, politically powerful north. This was only the fourth time Napoli have ever beaten the Bianconeri twice in the same Serie A season, following a 5-1 victory at home at the start of this year.
There were demons to exorcise. Zielinski was on the pitch when Napoli last won at this stadium, five years and one day previous. It was Kalidou Koulibaly who came up with an injury-time winner on that occasion, thumping a famous header beyond Gianluigi Buffon. Napoli believed they were on course for the Scudetto, but a loss to Fiorentina the next week shattered those dreams.
The story goes that they lost that title "in the hotel", players despairing as they watched Juventus come from behind to beat Internazionale in the dying minutes of a highly contentious match the night before they were due to face the Viola. Maurizio Sarri, who led them to a record 91 points, recalled finding players weeping in the stairwell.
Perhaps this time they will claim a Scudetto from the comfort of their own living rooms. If Napoli win at home to Salernitana on Saturday, then any dropped points for Lazio away to Inter on Sunday would mathematically seal their success.
That Sarri should be the man in charge of Napoli's closest challengers as they end this drought is a cute subplot. So is the fact that Giovanni Simeone, the striker whose Fiorentina hat-trick crushed the Partenopei in 2018, joined them at the start of this season.
Nothing could beat the symmetry, though, of Raspadori scoring his winner at the same end of the same stadium, at almost the exact same moment of the game, as Koulibaly half a decade before. "Same result. Same minute," tweeted the club's official account. "Different ending."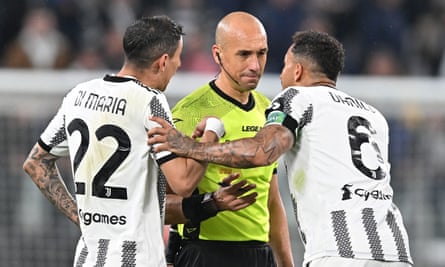 "I never travelled in first class, always as a hitchhiker," he said on Sunday. "People took the mickey out of me for bringing football boots with me to the bench. But I suffered as a kid to get football boots, I didn't have the money to buy them. I always remember that. You travel a more difficult road than people who start from different levels."
The same could be said for a Napoli team who were favourites in nobody's eyes at the start of this campaign. On Sunday they beat Juventus with a goal from Raspadori, a striker who has started nine games in Serie A this season, the embodiment of a squad that makes the most of its resources, not just the shiniest stars. They are not champions of Italy yet, but they will be. And the party has already begun.