In Joseph Suaalii Australian rugby has something it so desperately needs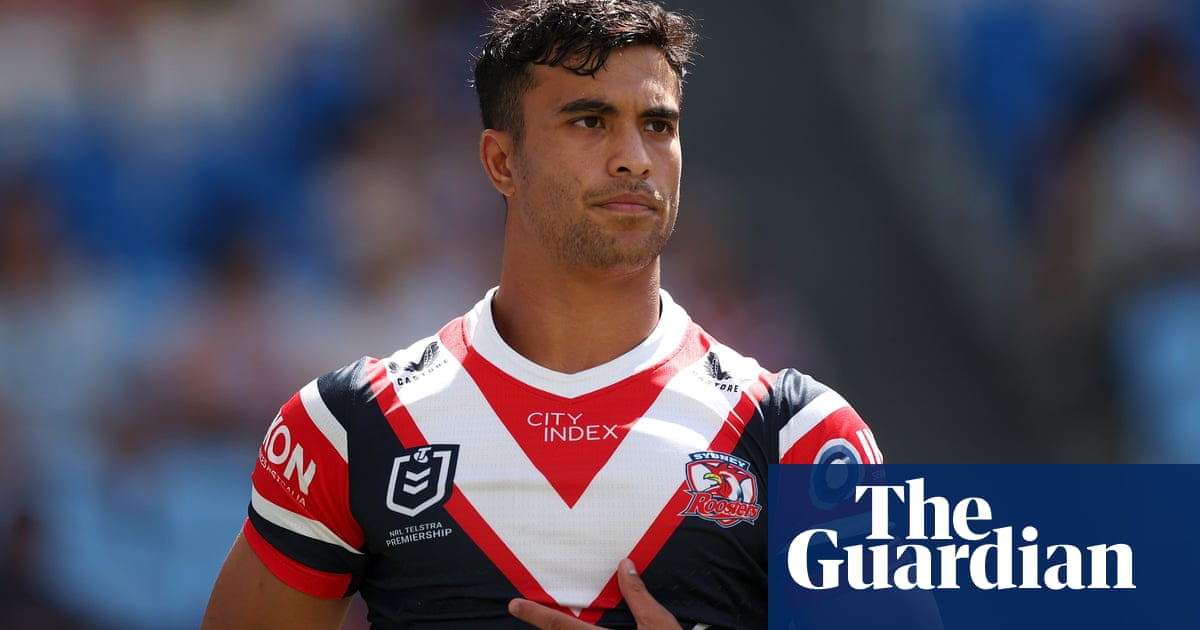 Joseph Suaalii will not begin playing for the Wallabies until 2025 but make no mistake: he started working for Rugby Australia the moment news broke of his signing.
Suaalii will become the standard bearer for rugby's new golden age, Australia's poster boy for the 2027 Rugby World Cup, for leading the women's game to professionalism and for restoring growth at the grassroots across the nation.
RA has shelled out a reported $1.6m per season for Suaalii, a 19-year-old NRL rookie yet to make his first-grade rugby debut. If true, it is in excess of what all-time legends Dustin Martin, Nat Fyfe and Lance Franklin earn annually in the AFL, and more than the Australian captain James Tedesco and a marquee player Latrell Mitchell make each year in the NRL.
Michael Hooper, who has played 121 Tests for the Wallabies over 11 years, including more than 60 as captain, all while propping up an ailing code from the engine room and bearing the scars of 10,000 rucks and mauls along the way, currently earns 25% less than Suaalii will be paid.
Is he 4000% better than other prodigies who fight through juniors, subbies and first grade to win a $40k Super Rugby contract? Many experts across union, league and athletics, say yes.
Plucked from the hardscrabble Penrith suburb of Glenmore Park, he became a school boy star, leading a GPS first XV while in South Sydney's Harold Matthews Cup side. Along the way, Suaalii broke Australia's high jump record for 12-year-old boys.
After selection to the New South Wales Schoolboys and Australian under-18s Sevens rugby sides, RA tried to lock the already-highly-sought-after teenager down – the Wallabies coach at the time, Dave Rennie, took a meeting to no avail. Instead, Suaalii shocked everybody by turning his back on both rugby union and the Rabbitohs to sign with the Sydney Roosters at the age of 17.
Don't let Peter V'landys's derision ("he'll be terribly bored") and Brandon Smith's wisecracking ("a $1.6m winger isn't going to help you beat the All Blacks") cloud the fact the NRL was so excited by Suaalii coming over they changed the rules to let him play underage.
Suaalii scored 15 tries from 19 games for the Roosters in 2022, made the NSW State of Origin squad and helped Samoa, his father's native country, reach the finals of Rugby League World Cup for the first time.
For NRL fans he will be a fun fling while it lasts. Suaalii will further develop under the support and care of Roosters coach Trent Robinson, refining his still-raw tackling technique and piling more muscle onto his 196cm frame (he has increased his weight from 95kg to 110kg in two seasons).
For rugby fans, though, it may prove frustrating to pay so handsomely for a once-in-a-generation sports car and then watch someone else drive it around for two years. But by 2025, after four seasons and 70 games of fierce NRL combat, Suaali will arrive as the complete package.
Australian rugby desperately needs something – and someone – special. The Wallabies won just five of 14 Tests in 2022 and have slipped to seventh in the world six months out from the 2023 World Cup. It's not good enough and everyone – fans, officials, players – knows it.
Big and strong and with plenty to prove, Suaalii could be the weapon to unlock the Wallabies way – the fan-friendly running game Eddie Jones has vowed to restore to the nation's rugby DNA.
Since RA's last marquee man, Israel Folau, was terminated in 2019, the Wallabies back three has been a mess of churn and burn. The Roosters' re-signing of Tedesco as full-back this month was Suaallii's cue to jump back to union. Will Jones make him a No 15?
Or is he a winger of mass destruction? Australia's only true match-winner, Marika Koroibete, will be 33 years old by 2025, and a new wave of wingmen – Jordan Petaia (23), Corey Toole (23) and Mark Nawaqanitawase (22) – must be blooded. Is Suaalii the speed gun out wide?
All of that can wait. To RA's credit, it threw caution to the wind and money at the problem. It won hosting rights for the 2027 Rugby World Cup. Then it recruited Jones as Wallabies boss to oversee a five-year root-and-branch overhaul of the code.
Now, in snatching back its prodigal son from the clutches of rugby league, it has secured a supremely marketable and freakishly talented player who will be a powerful bargaining chip as it takes the game into a private equity model this year.
Even before Suaalii runs out in 23 months' time, he will create excitement, put bums on seats and get boys and girls signing up. And the more tickets he sells, merchandise he shifts and sponsor investment he creates, the more money flows down the line into the game's growth.
The road to 2025 is not yet paved in gold bricks, let alone fans in gold jerseys, but there is a new star on the horizon and 800 million rugby fans in 100 countries are already following it.