Dunkley: Historic Hundred Draft 'exciting for women's game'
Sophia Dunkley is relishing playing a part in The Hundred's first women's draft on Thursday as she prepares for a new chapter in the competition following her release from Southern Brave.
The England batter, who guided her former side to the final last season, looms as one of the top players on offer at what will be a historic first women's player draft in a major sport in the UK.
Dunkley has been representing Gujarat Giants in the Women's Premier League and recently made her mark by firing the fastest 50 in the competition thus far with an 18-ball half-century on her way to 65 in a win over Royal Challengers Bangalore.
"Hopefully the draft as a whole will be a really exciting thing for the women's game going forward, changing teams up a little bit and adding to the competition," said Dunkley.
The Hundred Live
Thursday 23rd March 4:00pm
"We all saw how exciting the WPL auction was and how much traction that got so hopefully the Hundred draft will be able to do something similar and make the competition more competitive."
Dunkley is hopeful of The Hundred, entering its third year, emulating the success of the Women's Premier League, which saw her acquired by the Giants for around £60,000 last month.
"It's a kick-starting moment and I'm sure it will create a lot of competition around the world. I'm sure it's only going to grow the game and make it better for the players involved," she added.
"It's definitely not something I would have imagined growing up and for a lot of the girls that are a bit older than me, it's amazing for them to get to experience that because the game is in such a different place to when they first started and were my age.
"It's changed the game overnight in a way. To be able to say you've played in the first edition is incredible. I'm sure as the years go on, it's going to grow and grow and grow."
Somerset captain Tom Abell enters the men's draft with a reserve price of £40,000 after being released by Birmingham Phoenix in the wake of an injury-stricken two-years.
The 29-year-old was selected in England's ODI and T20I squad for last month's series against Bangladesh only to ultimately miss out due to a side strain.
He admits there is an element of "the unknown" heading into Thursday's draft with regards to team interest, but has championed the impact of The Hundred in elevating the career of players.
"There are a few conversations that happen, you get a feel for whether there's any interest in you but it all depends what happens in that room, who takes who and which picks come through," he explained. "When the draft takes place, there is going to be lots of excitement and plenty of nerves kicking around, I'm sure.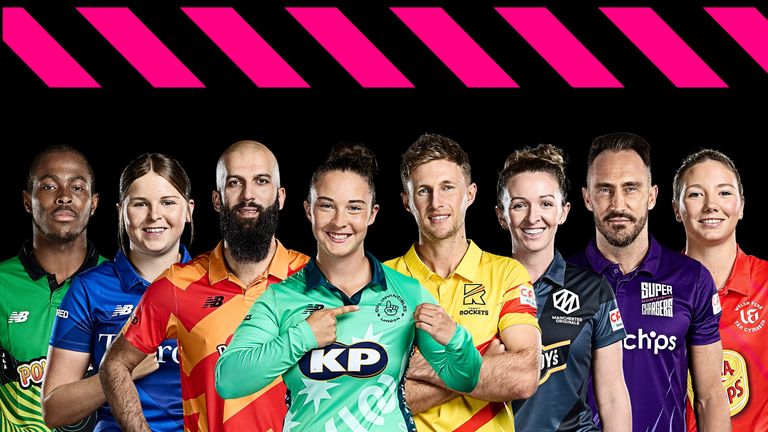 "Birmingham were very good to me but I haven't had much involvement due to injury, so I'm looking for a fresh start. Hopefully I get one and I can stay injury-free to make the most of it.
"The Hundred is a huge platform and a massive opportunity. I've witnessed how it's helped the growth of people like Liam Livingstone, a top player who showed really how good he was in the first season, and Will Smeed, who scored the first hundred.
"With the big crowds, top players and the TV audience, if you can get in and perform it can only be good for your career."
Those yet to attend can sign up in advance at thehundred.com for priority ticket access from April 5-18. Tickets will then go on general sale on Thursday April 20.
The Hundred Draft will be shown live on Sky Sports on Thursday from 4pm.
Sky Sports will show all 68 games in The Hundred live this summer.