Chelsea keep showing they are all promise and no substance | Jacob Steinberg
Not many visiting players are given a standing ovation at the Bernabéu. Ronaldinho got one after destroying Real Madrid for Barcelona in 2006 and Andrés Iniesta's greatness was recognised after a stunning performance at the clásico in 2015, so Mykhailo Mudryk can consider himself part of a pretty exclusive crowd.
It was a special moment for the Ukraine winger. He was a relative unknown at Shakhtar Donetsk when they visited the Bernabéu in November 2021, but he destroyed Dani Carvajal. It finished 2-1 to Madrid, Karim Benzema scoring twice, but that was by the by. All eyes were on Mudryk, who had the home fans on their feet when replaced with 19 minutes left.
Those supporters must have been wondering what on earth has happened to Mudryk when Chelsea visited for the first leg of their Champions League quarter-final on Wednesday. Carvajal did not have to worry about marking him this time. Madrid did not have to worry about very much at all. It took them 22 minutes to make a mockery of Todd Boehly's prediction – 3-0 to Chelsea – and they were not required to hit the heights to secure a comfortable 2-0 win.
There had been an early flurry from Chelsea, fleeting drive from N'Golo Kanté in midfield, but Madrid quickly worked it out. Benzema opened the scoring, Ben Chilwell got sent off while trying to cover for Marc Cucurella losing Rodrygo, and Marco Asensio made it 2-0 with his first touch.
Madrid cruised. It was too easy at times and although it is tempting to wonder whether Real will regret not establishing a bigger lead the prospect of a comeback feels slim given Chelsea have scored three times in a game on three occasions this season.
Their attack is a confused, misshapen thing. They have spent a lot of money on it, only to find themselves with an array of wide players and no proven goalscorer. Is there a workable plan here? Against Madrid, Frank Lampard named Chelsea's top scorer, Kai Havertz, on the bench. Mudryk, who arrived to great fanfare when Chelsea pipped Arsenal to him in January, was an unused substitute, along with two expensive imports from previous years, Christian Pulisic and Hakim Ziyech.
It is no surprise they all look lost. Mudryk, who has not scored since joining for a potential £89m, is not alone. Raheem Sterling, who has disappointed since his move from Manchester City, was ineffective again. Sterling's pace briefly seemed to have Eduardo Camavinga worried and he was unfortunate not to equalise during the first half, but his overall display was ineffective.
Chelsea had nobody as incisive or decisive as Vinícius Júnior, whose direct running and swerving dribbles terrified Reece James and Wesley Fofana, and it is at this point attention switches to João Félix. The Portuguese forward was limp on his return to the Spanish capital. In a way it was a typical Félix display: some nice movement, a few tricky runs, some decent skill, but nothing in the way of end product and zero conviction when he had the chance to put Chelsea in front after being released by Kanté in the second minute.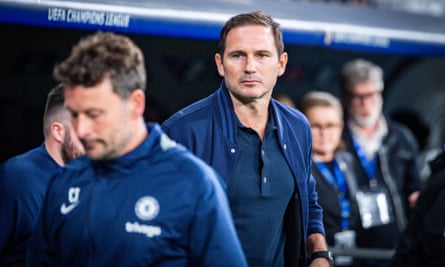 Félix never looked as if he believed in himself. He could not shrug off Éder Militão, who forced him away from goal, and his shot was too close to Thibaut Courtois. It was all too tentative. The tone was set.
It sums Chelsea up this season: plenty of promise, plenty of talk, but little substance. Félix has dazzled at times since joining on loan from Atlético Madrid in January. But perhaps his debut was a sign of things to come. Félix was outstanding for 58 minutes against Fulham, creating, scheming, constantly evading defenders. He looked as if he was going to win the game for Chelsea. And then he got himself sent off.
The bright start was not sustained. Félix has not been a disaster, even if his loan cost €10m. There have been neat goals against West Ham and Everton. He has been unlucky at times, hitting the woodwork against Borussia Dortmund and Leeds. Equally, though, he has tired in a lot of games, missed chances and flattered to deceive. Few players are as good at dropping a shoulder, deceiving a defender and exciting the crowd, only to lose the ball on the edge of the area.
Perhaps an explosion is on the way. At the moment, though, it is hard to make a case for Chelsea signing Félix permanently. Félix, who has said he wants Champions League football, poses a tactical problem. He is not really suited to playing out wide, has tended to look at his most dangerous off a target man and has not done enough to justify Chelsea spending big on him.
Not that there is any guarantee that will stop them wasting more money. Perhaps Félix will hit his stride before the end of the season. Perhaps Mudryk will make Madrid remember him next week. But when you see a thoroughbred such as Vinícius terrorising a full-back and properly affecting a game it hammers home just how timid Chelsea are by comparison and, even more damningly, just how little they have thought about how best to build an attack.