Champions League final moved to Paris from St Petersburg
UEFA has moved the Champions League final on May 28 to Paris from St Petersburg, following Russia's invasion of Ukraine.
The UEFA executive committee held an emergency meeting on Friday and decided to move the showpiece to the Stade de France from the 68,000-capacity Gazprom Arena in Vladimir Putin's home city.
The executive committee also decided Russian and Ukrainian clubs and national teams competing in UEFA competitions will be required to play their home matches at neutral venues until further notice.
This is set to affect Spartak Moscow in the Europa League and also Russia and Ukraine in the 2022-23 Nations League which is due to get under way in June.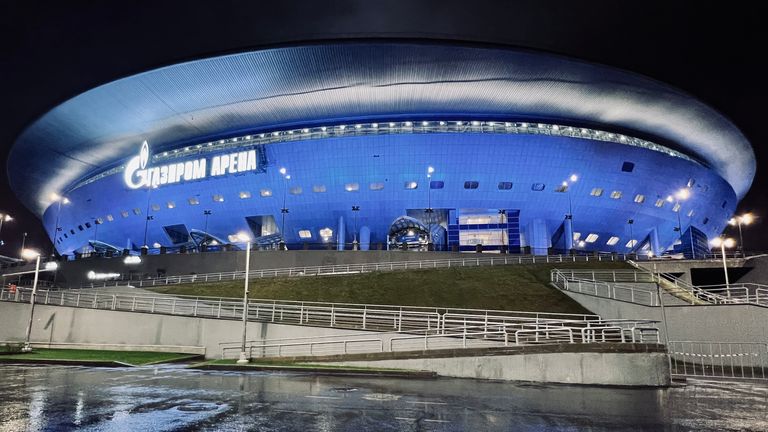 A UEFA statement said: "The UEFA Executive Committee today held an extraordinary meeting following the grave escalation of the security situation in Europe.
"The UEFA Executive Committee decided to relocate the final of the 2021/22 UEFA Men's Champions League from Saint Petersburg to Stade de France in Saint-Denis. The game will be played as initially scheduled on Saturday 28 May at 21:00 CET.
"UEFA wishes to express its thanks and appreciation to French Republic President Emmanuel Macron for his personal support and commitment to have European club football's most prestigious game moved to France at a time of unparalleled crisis.
"Together with the French government, UEFA will fully support multi-stakeholder efforts to ensure the provision of rescue for football players and their families in Ukraine who face dire human suffering, destruction and displacement."
The 2021/22 UEFA Men's Champions League final will move from Saint Petersburg to Stade de France in Saint-Denis.

The game will be played as initially scheduled on Saturday 28 May at 21:00 CET.

Full statement: ⬇️

— UEFA (@UEFA) February 25, 2022
FIFA has yet to take a decision on what to do about next month's World Cup play-off matches.
Russia host Poland in a play-off semi-final on March 24 and would then face the winner of the Sweden vs Czech Republic semi-final in Russia for a place in Qatar.
The federations of Poland, Sweden and the Czech Republic issued a statement on Thursday insisting matches should not be played on Russian territory and demanding "alternative solutions" be found.
FIFA president Gianni Infantino said on Thursday his organisation would look at the matter with "urgency" but said he hoped the situation would be resolved by next month.
Ukraine are due to face Scotland at Hampden Park in a play-off semi-final on March 24, but that match is also in doubt with the Ukrainian league suspended following the invasion.
Players free to protest amid Ukraine crisis
Players, fans and football clubs will be free to protest against the Russian invasion of Ukraine, without fear of punishment from the FA, Premier League or EFL – so long as those displays are not offensive or overtly political.
As the governing body, it's the FA who has jurisdiction in these matters, and there are clear kit and advertising regulations that prohibit the use of threatening, abusive, indecent, insulting, discriminatory, political or religious messages.
But there is widespread feeling among officials displays of support for Ukraine should not be judged in this light.
It is not an offence to display a nation's flag on shirts or inside a stadium – and Sky Sports News has been told many clubs in the UK are considering adopting the Ukraine flag in some capacity during this weekend's matches, in a show of solidarity.
The FA considers issues such as this on a case-by-case basis, and given its support for initiatives that promote diversity and inclusion, punishing messages of support for Ukraine's people would seem at odds with the organisation's overall ethos.
The FA took "a common sense approach" back in the summer of 2020, when it became clear large numbers of professional players wanted to take a knee in a show of unity against racial inequality, following the killing of George Floyd in America.
FIFA president Gianni Infantino at the time said the players "deserved applause" for the stance they took.
Similarly, football's authorities are not now expected to punish players or clubs who speak out on the situation in Eastern Europe.
Disciplinary action is expected only if an action is deemed offensive, provocative or overtly political.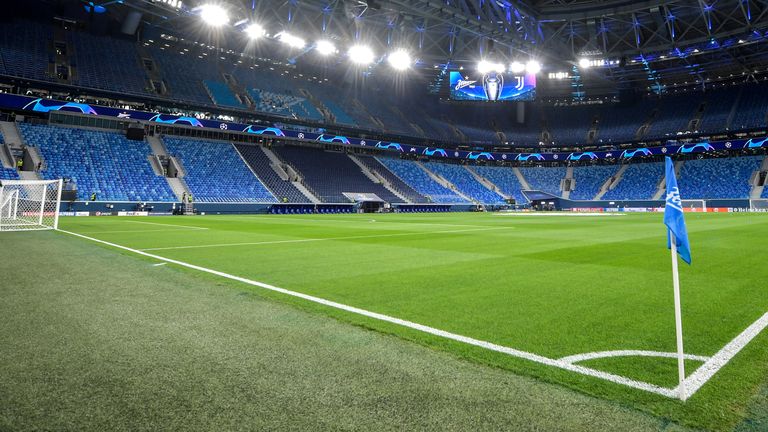 UEFA is under increasing pressure to cut ties with Russian state energy company Gazprom, after Vladimir Putin ordered an invasion of Ukraine.
Gazprom, which is majority-owned by the Russian government, is one of the major sponsors of European football's governing body.
Russia's attack on Ukraine entered its second day on Friday, with more than 130 people killed.
UEFA has had a sponsorship deal with Gazprom since 2012, and it spends about €40m a year backing the Champions League, European Championships and Nations League. It renewed its latest three-year deal last May.