Can Swans rebound from grand final humiliation to make AFL history? | Courtney Walsh
As Sydney looks to create modern history in 2023, selective memory across the Swans' collective is critical to their ability to contend for this season's AFL premiership.
Among the truisms in football is a trend Sydney must reverse after their humiliating 81-point loss to Geelong in last year's grand final to claim their first flag since 2012.
Teams thrashed in deciders have wallowed, rather than rebounded, the following season since the VFL became a national competition with the inclusion of Brisbane and West Coast.
Port Adelaide Power were defused after their 119-point defeat to Geelong in 2007 and did not reach the finals again until 2013.
The GWS Giants marched to a maiden grand final appearance in 2019 in tune with their Big Big Sound but have scarcely made a noise since being plucked by Richmond by 89 points.
Dismantled by Melbourne by 74 points in Perth in 2021, the Western Bulldogs lost their bite last year when failing to make the eight. It is a dispiriting history for Swans fans.
But in the immediate aftermath of the 2022 grand final, Sydney coach John Longmire recognised the need to frame a mindset that would enable his team to look to the future.
It had been a disastrous day, from the bungled selection of an unfit Sam Reid to the scrambled decision-making. The Swans, Longmire acknowledged, "just buggered it up".
But in the same press conference the veteran coach delivered a template for how Sydney are seeking to turn history on its head this season after the fifth-heaviest loss in a grand final.
Sydney would consider 2022 as a whole, rather than just the final four quarters, and in doing so realise that they had taken another significant step in their development.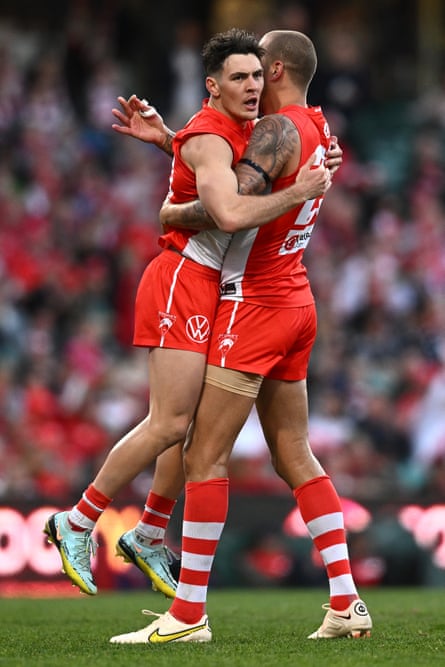 Longmire highlighted this again this week when saying he doubted the scarring from last season lingered, noting it was "six months ago" and that Sydney has "moved forward".
"We are really confident in this next group … that if we get the majority of our best team on the park the majority of weeks, we think we will be competitive," he said
Only one rival skipper has tipped Sydney to reach the 2023 grand final. But there is reason for optimism.
The Swans have the fifth youngest team this season and rank eighth in terms of average games played. In theory, their best form should lie ahead of them.
It is a theme Luke Parker, who co-captains the Swans alongside Callum Mills and Dane Rampe, stressed ahead of the Swans clash with the Suns on the Gold Coast on Saturday.
"Last year, if you reflected on what the whole story was, it was such an enjoyable one," he told Guardian Australia.
"It was almost like, had we lost against Collingwood [in the preliminary final], [it] would have been a good season and we would be reflecting on how we would be carrying on this year.
"The hardest thing is that some people would think you reflect on the last game, or how you finish up but if most teams did that for your whole career, it's a pretty sad career.
"I think we went into the grand final on a nine-game winning streak and we were obviously doing a lot right.
"It's about making sure that going into this season, we continue to find ways to improve, to tweak things and to generally create that drive and excitement of another year."
Not since Hawthorn rebounded from a 78-point loss to Essendon in 1985 to win the following season's flag has a team beaten by more than 10 goals rebounded to win the premiership.
But Longmire has an example to show his Swans they are capable of bucking the trend. Trounced by Hawthorn in the 2014 decider by 63 points, Sydney claimed a top four spot the next year and then finished atop the table in 2016 when beaten grand finalists. They have a resilient, strong culture and there is genuine belief their list will improve.
Lance Franklin is 36. The star will be rested at times this year. But Logan McDonald now has two seasons of experience and shapes as a partner to Sam Reid and Franklin.
Errol Gulden, 20, was phenomenal against Carlton in the pre-season and Sydney boast several young talent, including Nick Blakey and Ollie Florent, aged under 25.
Chad Warner, Tom McCartin and Braeden Campbell are others with immense potential, while established stars Isaac Heeney and Callum Mills are still young enough to grow further.
"We've got a young team which is still developing and it's exciting to see how well we've been playing, even though there's still a lot of improvement," Parker said.
"They'll grow in confidence. They will grow in size and speed and knowledge and that's what you need to go to another level. This season? It is an exciting thing. It is the start of a new journey."