Bayer Leverkusen's revival under Xabi Alonso continues with derby delight | Andy Brassell
If Leverkusen have spent most of the campaign so far hiding their bright light under a bushel, it was shining high in the grey skies last weekend as they steamrollered long-time league-leaders Union Berlin. The highlight of Englische Woche, though? Don't be fooled. If Sunday was the main course this, a 15-minute hop behind enemy lines on a fresh Wednesday night, was the dessert.
That half-hour of second-half heaven against Union, where a goalless first half became a 5-0 virtuoso display, felt like a placebo in the context of the midweek derby at Köln, like a little holiday from reality. It had shown Leverkusen could play, but we knew that already. This showed they have the guts as well as the swagger (neither of which have been on display nearly enough this season). The jubilant reaction of Xabi Alonso – a twitchy, tense presence on the touchline all evening – and his staff at the end showed how much this meant.
Leverkusen's tough midfielder Robert Andrich, disarmingly honest and increasingly the team's spokesman while a season that had promised so much fell through the floor, warned that was the case as the embers of Sunday's performance still glowed. "It's important," he had stressed, "that we don't think it's all about tra-la-la football." Beating Union had sprung Die Werkself from the bottom three for the first time in weeks. It was only the first step.
If ever a challenge could have been artificially concocted to give weight to Andrich's words then this kleine Derby would have been it. Leverkusen were on the rack for much of it, particularly in a first half in which they were unimaginative in attack and uncoordinated without the ball. They trailed from the half-hour, when Benno Schmitz chested down and smashed in a perfect volley from the edge of the box. It was the defender's first Bundesliga goal for the club, almost four-and-a-half years after joining, his first goal of any sort since scoring for Bayern Munich's second team nine seasons ago. His teammate Linton Maina held his head in his hands, unable to believe it. Little wonder one pressroom wag was overheard referring to Schmitz as the "Kölsche Cafu". The goal underlined the superior enterprise and poise of Steffen Baumgart's side, despite their inferior resources.
This was the moment for Leverkusen to show that the players are equipped for the task of pulling away from the bottom, rather than showcasing their feted coach's ideas. "It's not that easy to mentally accept the situation that you're in and go from there," the club's sporting director Simon Rolfes told the Guardian afterwards. "[Alonso] stepped in without time to train the team, more or less. It's great work from him to be very efficient in the few sessions we had, and from Sunday onwards we have six weeks to use like summer preparation."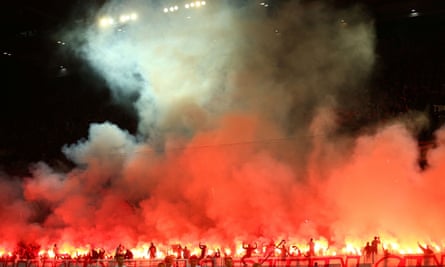 Leverkusen rode their luck, especially during a sequence of play early in the second half when Köln skipper Jonas Hector crashed one off the crossbar from way out and then Lukas Hradecky saved from Sargis Adamyan. If either of those chances had gone in, we might have found out exactly how much stomach the visitors really had. On the back of that, though, Leverkusen began to scrap. Alonso's substitutions worked, with one of them, Nadiem Amiri, levelling from a direct free-kick with 25 minutes to go. His goading of some of the home fans as he celebrated showed he knew what was at stake.
For even if Leverkusen have the greater riches, Köln have the richer history, and their big derby is Borussia Mönchengladbach. "We have a game against a team from the neighbourhood, for whom it will be a derby," their head of football Thomas Kessler teased before the game. "Since Leverkusen are not doing well at the moment, it would be huge for them if they win against us." Thanks to an electrifying counter started and finished by Moussa Diaby – their best player on the night – six minutes after Amiri's equaliser, they did just that.