An ode to Mesut Özil, the frictionless footballer not designed for the age of rage | Barney Ronay
There is of course no connection, only chance correlation, in the fact the top three teams currently in Europe's top three leagues are also the last three teams to get rid of Pierre-Emerick Aubameyang. Arsenal, Barcelona and Borussia Dortmund have all passed on Aubameyang, Dortmund quite a long time ago. And while this is simply coincidence, it might make sense at this stage in the striker's career, and in a sport that is always seeking marginal gains, for his agent to start marketing him on this basis, punting him around top clubs, backed by hard data, on the basis that hiring and then getting rid of Aubameyang has undeniable benefits.
Here is a player who should be treated not as a regular squad member but as the football equivalent of the sacrificial goats the ancient Greeks would take into battle, to be offered up as appeasement to the gods. Sign my client. Alienate him from the squad under an agreed schedule. We guarantee an Aubameyang Uplift of at least three league places between November and March while he posts pictures of his dinner from Dubai.
There is a serious point here. At a time of bloated squads and destructive superstars, the ability to get rid of players is almost as vital as the ability to bring them in. Manchester United's squad has been clogged for years with vaguely familiar faces on mind-boggling contracts. Plus, of course, and most obviously, we have the example of Arsenal, where a part of Mikel Arteta's success has been tied to his ability to wield the cleaver, to slice away various basking low-value players. A large part of which, arguably day one on the journey from there to here, was the complete exclusion of Mesut Özil from the new era.
With Özil's retirement from football this week there has been a temptation to draw an Aubameyang-style connection. This time between the final shuffling-off of a wonderful, occasionally maddening footballer, last seen gliding around an unhappy Emirates Stadium like some wide-eyed Victorian ghost accidentally caught on camera behind the summer house, and the simultaneous ratcheting up of Arsenal's eight-point lead in the Premier League, due reward for Arteta's new-build team of ferrety, eager, perpetual-motion footballers.
The optics for Özil here aren't great. And he has duly been sliced and diced and processed through the mania of competing opinion, defined as either fraudulent fancy boy or misunderstood consumptive genius depending on your bent.
This was always going to happen. Odd as it now seems, there have been few more divisive footballers in the last decade, or at least few who have seemed to capture a failing era so perfectly. For the majority of his Arsenal career the wails and yelps around Özil seemed to act as a kind of Viking funeral march for the death of the age of Wenger, the sound of lost, sweating alienated middle-aged men speaking with alarming fluency about their deepest and most feverish fears, as filtered through opinions on a succession of disappointing results. And to be fair a great deal of the unhappiness was justified on the numbers.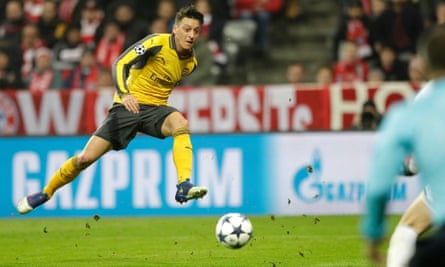 There is a temptation now to divide Özil's Arsenal career into three distinct periods. The disappointing first phase. The disappointing second phase, and the exceptionally disappointing third phase, when he was paid £60m over three years, during which he scored one away league goal. And yet, and yet and yet: this is also to miss the point of him, to judge him too harshly, as someone who has somehow chosen to be inefficient, who is deliberately withholding success by refusing to apply his divine talent.
It is worth noting that Özil was also a terrible fit for a team that needed a near-total rebuild but wasn't really going to get one. When he first arrived in 2013 his shared poster boy for the new era was Yaya Sanogo. Here we have the world's most frictionless footballer, the perfect provider of bullets; stood next to a total work in progress, the striking equivalent of an 18th-century blunderbuss loaded up with nuts, bolts and flailing human limbs. How exactly was this supposed to work out?
And yes, Özil was frustrating and high-maintenance, but there were also trophies. He ran a lot more than people realised. And his good times were as good as anyone's good times. We remember the inside-out, time-stop reverse pass, the pass before the pass before the foul before the penalty against Paris Saint-Germain in 2018, a dying note in a dying team that basically meant nothing but stands on its own as a moment of pure sporting art.
Or how about the time Özil was so ruthlessly brilliant against Chelsea in September 2016 he drove Antonio Conte to go and brood at home in Italy and produce that three-man backline rejig. Here was a performance to inspire a title charge; just not, as it happens, in the team he actually played for. So, thanks for that Mesut.
The main point with Özil is that he wasn't designed for the age of rage, for the age of being diced and sliced and dissected into his component numbers. Özil has been called a very modern footballer because he was on social media a lot. But really he was a throwback, maybe even the last of a very distinct line.
In part because he was a genuine No 10, all perfect touch and gliding peripheral vision, gossamer touches, that titanium-tipped left foot (he was just so, so left-footed). Ask him to play without the ball and he became almost entirely ineffective, exhausted, pale, the footballing version of David Bowie in The Man Who Fell To Earth, some frail alien prince ready to be carted off into a waiting limousine by his attendants.
What happened to Özil is that football changed around him, became a far more physical, hard-pressing discipline. This is not simply old-days nostalgia. There are few keener pleasures right now than watching Arsenal's current No 10 Martin Ødegaard, who also sees everything and manoeuvres the ball with startling dexterity, but is also furiously hard-working.
Whereas Özil was above all about the beauty, the angles, even just the way he moved with the ball. The arguments and objections will of course fade. What we will remember are those moments in time, and an indelible kind of beauty.