Ake emergence as key man for Guardiola explained
Earlier this season, Pep Guardiola suggested that his Manchester City team was incapable of playing well without Nathan Ake in it. Even when questioning his players' hunger following the 4-2 win over Tottenham in January, Ake was one of those excluded from criticism.
It has been some turnaround for the Dutch defender. He was linked with a move away from City in the summer and understandably so, given that he had started only nine Premier League games in his first season with the club and 10 in his second.
But that figure has already leapt to 17 Premier League starts this season. No City defender is included more regularly. Expect Ake to be in the line-up against Liverpool on April 1 and when Guardiola resumes his quest to win the Champions League against Bayern Munich 10 days later.
Joao Cancelo will be eligible to play for the Bundesliga champions in that quarter-final tie, although his chances of featuring are less clear given that his game time has been limited following his loan move to Germany. It is ironic given Cancelo's apparent impatience.
While the Portuguese full-back was unwilling to wait it out, Ake's professionalism has been rewarded. Naturally, Guardiola wants every player at City to thrive. But there is a sense that it is even more satisfying when someone with an exemplary attitude flourishes.
"These types of players play good because when they were not playing, they were always the most generous, with the most commitment for the club," Guardiola tells Sky Sports. "When this happens, you do not have regrets because you are prepared.
"In that period when you were not playing, you were preparing, not finding excuses, not complaining about other situations apart from yourself. You were training to improve, to learn what the team needs, what the manager wants, what you can do better."
This is an important addendum because the danger of becoming a perennial substitute is that the assumption takes hold that the player is content with his role. Ake always wanted more from his City career; he just responded by working harder to make it happen.
"I am not saying that when he was not playing quite as regularly, it was all fireworks at home. I am not saying that," says Guardiola. "Afterwards, when you are asked to play, you are ready. When this happens, the karma, or whatever you want to say, it works.
"That is why he deserved to play."
Ake clearly has the intangibles. The soft skills. The credentials off-the-pitch that coaches believe foster a better team environment. But while that might explain why he deserved to play in Guardiola's team, it is not why he is playing in it. Ake is a fine footballer.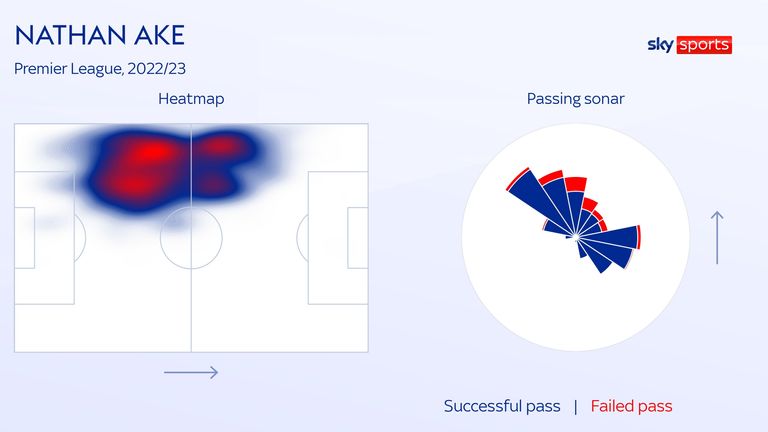 That he is comfortable in possession is stating the obvious. It is essential in passing teams. "Teams like Brighton, for example, and Arsenal, they use a lot of build-up," says Guardiola. "The players who are at the back are the players who touch the ball the most."
He continues: "If you play long balls all the time to the head of the strikers, they would be the players who touched more of the ball. In our case, our central defenders and Rodri, it is important that they can do this and that is what he is doing."
Ake ranks second in the Premier League for progressive passes per 90 minutes – defined as a pass that is played forwards or diagonally. Only Ruben Dias makes more. But Ake's greater positional flexibility has made him even more useful than his team-mate.
He has become integral to City's approach, a left-sided defender who can allow Guardiola to build play in a two or three-player defence, changing the system without changing the personnel. A strong centre-back comfortable in wide areas is a prized asset.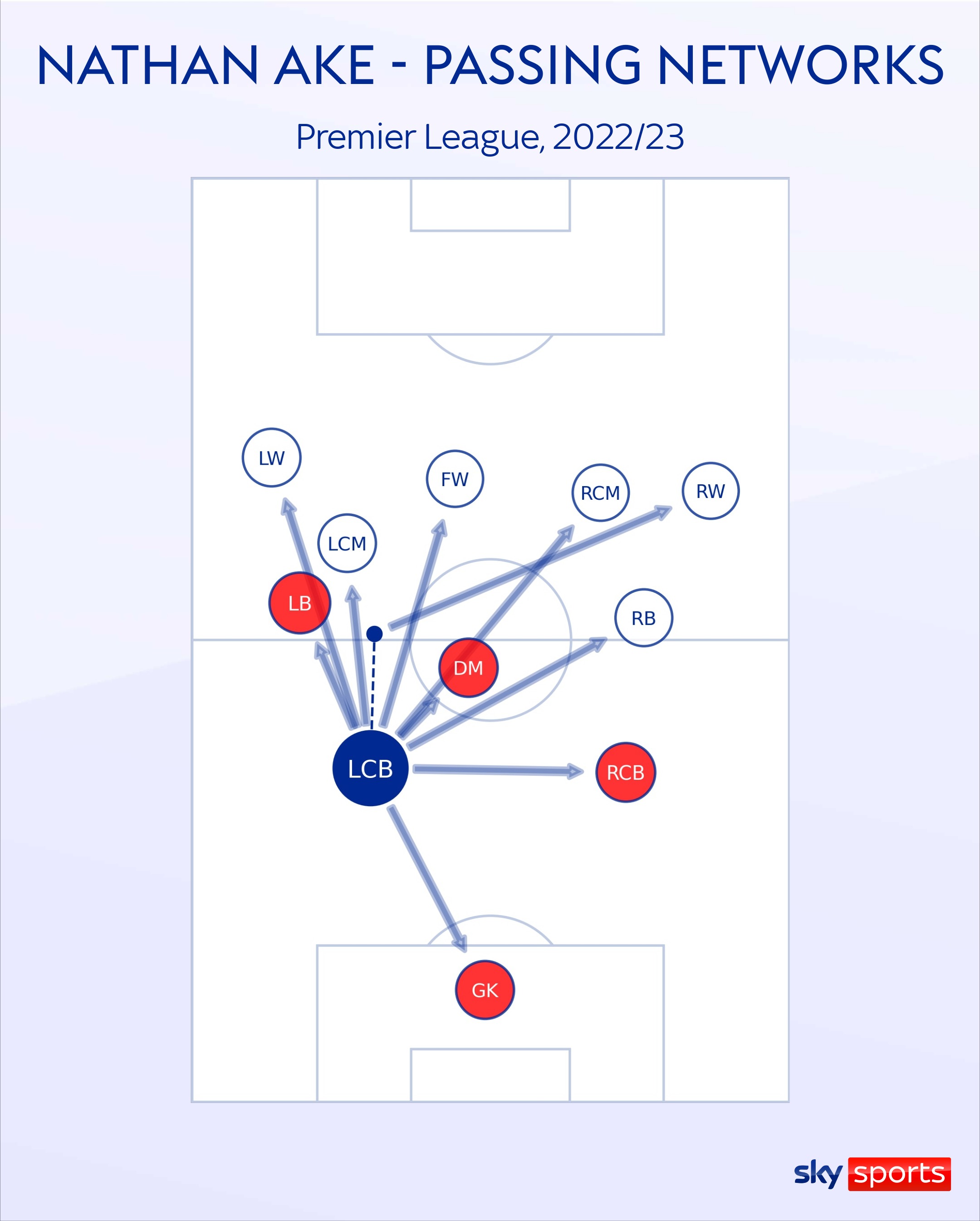 "He is an exceptional defender," says Guardiola, summarising his thoughts on the 28-year-old. "He is incredible in the set-pieces, his attention to what we need in the process, he is really good in the short spaces. So that is why he is playing. It is as simple as that."
It has taken time to see the best of him. In his first season at City, he started a fraction of their Premier League matches but half of their defeats. Momentum was missing. His longest run of consecutive games that season was two. In his second season, it was three.
But Ake started the first four games of this season and his omission from the FA Cup quarter-final against Burnley that broke a sequence of six starts in a row felt more like rest than rotation. The good news is that Guardiola knows Ake will respond in the right way.
A ball-playing defender with the perfect attitude when left out?
In that sense, he is Guardiola's dream player.
"Always, I think this is a team," he explains. "I am not alone here. Backroom staff, sporting director, everyone. I love that. Team, team, team. And when I see players whose first thought is the team, I like to work with these players. Do not ask me why but I like it."