After yet another comeback the Liga title will soon be Real Madrid's again | Sid Lowe
In the middle of it all, someone fetched David Alaba a chair. It was late, it had been a long week, his legs were weary and everyone were making a lot of noise, but this seat was not for sitting. This was for celebrating, his thing now, and so he took it and lifted it above his head. Back by popular demand, he emulated what he had done after that absurd comeback against Paris Saint Germain, a cheer went round the dressing room and his team-mates started singing: "That's the way Madrid win!"
They had only gone and done it again, and this time it had taken the title. "It's just three points, that's the reality," Nacho Fernández said standing pitchside when it was all finished bar the shouting, and there was a lot of that, but the reality was that the league was theirs, clinched their way. Four days after their implausible revival against Chelsea, Real Madrid came back from 2-0 to beat Sevilla 3-2 in a brilliant match at the Sánchez Pizjuán, the only remaining unbeaten home record over and the race as good as over with it.
A title winner in Italy, England, Germany and France, Carlo Ancelotti should now add Spain, a fifth different championship arriving via a second opportunity he never expected, a chance phone call about something completely different bringing him back to the Bernabéu. It might even arrive soon: Madrid don't play next weekend – Saturday is the Copa del Rey final between Valencia and Betis – but by Sunday night they could be champions, if Barcelona slip up this week. Fifteen points clear with six games left, what little hope anyone else had slipped away late on Sunday night. Very lateSunday night.
It was Easter Sunday in the place where they take the passion of Christ more seriously than anywhere else, the orange blossom again turning Seville into the best-smelling city on earth, and a huge banner had covered one end at the Pizjuán. "They celebrated our death; they will fear our resurrection," it read. They meant Sevilla of course – and there are two Jesuses in their team, etc and so on – but it was made for Madrid, always somehow standing there when the rock is rolled back.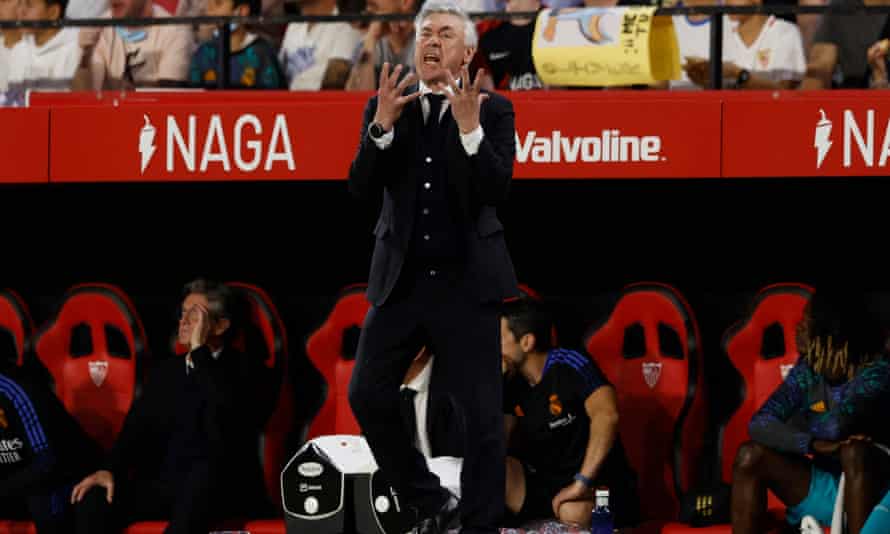 That might have already been Madrid's third, Thibaut Courtois sitting on the advertising boards at one end amiably chatting to Sevilla's fans about a whether an earlier "goal" would be given, only for the VAR to decide that Vinicius had handled. Instead, with Julen Lopetegui frantically waving on the touchline, the third had to wait until Benzema finished off another neat move in the ninety-second minute. He then dashed towards the men on the bench as they ran towards him. Ancelotti clenched his fists and shouted. Alaba held his head in his hands. And players and staff piled in. To their right, Lopetegui looked broken.
They knew what it meant. "We're a little closer," Nacho said but it was a lot. This game, the covers of both Madrid papers had agreed on Sunday morning, was "half a league", championship point or break point, as Diario AS put it. Barcelona and Sevilla had been handed hope and then had it taken away again. Rafa Mir had missed a glorious chance to end it at 2-1 only to head over but with eight minutes left Madrid were still losing. Had it stayed that way, they would have gone to Pamplona – not somewhere they enjoy – knowing that another defeat could have seen them reach the end of next weekend just three points ahead.