A lot of anger but no trophies – how Antonio Conte's Spurs reign blew up | David Hytner
What came first at Tottenham? The angst and impatience within the fanbase over the lack of trophies that affects the players? Or the players' inability to cope with the pressure and win trophies that fires the angst and impatience?
Antonio Conte is not sure. But what the latest former Spurs manager came to feel was that both were present and incorrect at the club, shaping an environment that resembled the results of an attempt to sprint through quicksand. Or, to put it another way, the impossible job for a manager. Any manager. Even one as decorated as him.
To repeat, as Conte likes to say, this was his point of view, his justification as to why his stint at the club will go down as a failure. He was signed in November 2021 to win silverware, Spurs having lifted only the 2008 Carling Cup during the 22-year chairmanship of Daniel Levy, and he could not do so.
There came to be an unhealthy amount of reputation future-proofing from Conte, an inversion of the old breakup line. It's not me, it's you. Other than Juande Ramos, nobody has won a trophy at Spurs under Levy and there were plenty of top managers before Conte who fell short by this metric.
To repeat, it comes down to the culture at the club, one where the players are indulged and excused, while the managers carry the can. "They can change the manager, a lot of managers, but the situation cannot change – believe me," Conte said during his diatribe after the 3-3 draw at Southampton on the Saturday before last.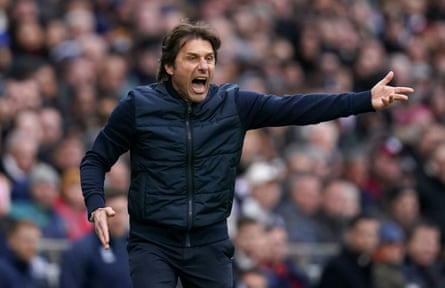 In some ways, Conte was a victim of his "serial winner" reputation – a little like one of his predecessors, José Mourinho. He began to know it, too. "If I was a good coach but without a win in my career, I think this would be the perfect situation," Conte said a few weeks back. "My past is different. Maybe it penalises me."
With Conte, there were no shades of grey. It was silverware or bust. That has not been the case with other managers of the Levy era. Harry Redknapp and Mauricio Pochettino did not win, but, in a broader and more romantic sense, they did, taking supporters on a journey, playing with a certain style, creating memories. Particularly Pochettino, who reached the Champions League final.
Spurs fans are no more impatient than supporters at the other big clubs. If they can see a plan and progress, if they can enjoy the matches, they will get on board. This is ultimately where Conte failed. Trophies are a long shot for virtually any club in England. The Spurs support do not expect them. What they do demand – quite legitimately – is unity, selflessness and the prospect of excitement.
Conte always felt an uncomfortable fit for Spurs; his demands, his modus operandi, his own impatience (never mind that which he perceived from the stands) at odds with how Levy has tended to operate. Again, there were parallels with Mourinho. The hope was that good results would override everything. When they fell away this season, Conte looked stuck and when he lashed out it was more in impotent rage than with any conviction his words could inspire.
He offered the impression he understood two kinds of love. Tough and tougher. From the outset, he preached a gospel of sacrifice and suffering; the need for 24/7 immersion in the mission. He did more than preach it. He tried to scorch it into every set of temples; the intensity as remorseless as his attention to detail on the training pitch. "Not there. There. Let's do it again." Conte knows what it takes to win. This was the basis of the needed mentality. Everyone had to trust him, to follow him.
At first, it was possible to detect a quasi-religious zeal among the players. In interviews, some of them would reference Conte buzz phrases. Spurs did not know how to win, which gave him an immense superiority. There was a fear he could walk out if he did not get what he wanted in the January 2022 window. He would actively leverage it after the defeat at Burnley the following month when he wondered whether he was the right man to improve the situation at the club.
It was a calculated move to get more out of the players; with Conte, it always is. He thinks extremely carefully about his messaging in press conferences. And it worked, the team winning 10 of their final 14 Premier League games to finish fourth – a fine achievement.
It was clear Conte's browbeating came to have less of an effect, fatigue setting in as he made the same points over and over again. There is a threshold. Conte complained a lot, his targets ranging from the club's past mistakes in the transfer market (remember the Bryan Gil episode?) to why he had to be a lone spokesman for the organisation.
There was the gripe Djed Spence was a "club signing" last summer, ditto Arnaut Danjuma in January. Conte wants finished articles, experienced players to make an immediate impact. That also explains his indifference towards the academy, where morale was on the floor.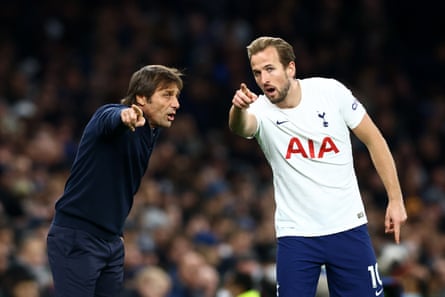 Conte came to look tired. He was devastated by the loss of three good friends – the Spurs fitness coach, Gian Piero Ventrone, then Sinisa Mihajlovic and Gianluca Vialli – which led him to question his work-life balance, especially the distance to his wife and daughter in Italy. He would then be drained by his emergency gallbladder removal at the start of February.
It was clear he did not want to stay on; that he was tally-marking the days to the end of the season and his contract, which in itself was weird – managers are not supposed to run down their deals. The contradictions became more jarring.
Conte repeatedly talked of the need for time and patience; how this team was not ready to win. Why then did he sign only a 20-month contract if winning was the one goal? His desire to turbocharge his way to glory always felt like wishful thinking; to live the upside of his typical cycle – arrival, huge investment, silverware. Was Levy ever going to authorise the kind of big-money signings he craves? He did back Conte to a reasonable degree.
The Italian would live his usual downside – the acrimony, the fraying of relationships – and, in the end, it was the negatives that were the greater takeaway. The rigid and predictable football, the lack of front-foot punch. How so few players improved.
When Conte arrived at Spurs, there were smiles at Chelsea, where he had won before leaving under a cloud, the writ for unfair dismissal served. There was also a confident prediction: it would not end well again.
As Conte raged at his players at Southampton, admitting their mentality remained a problem, a week or so after castigating the Spurs support, the breakdown felt suitably complete.